June 2nd, 2016
The art of Fred Jinkins is the work of an 87 year old artist. He enjoys painting HappyPaintings. His happy art includes happy people, happy fish, happy sailboats, happy designs, happy cats, happy dogs,happy grasshoppers, happy mice, happy girls, happy gardens and happy memories. You can enjoy all these happy pictures (over 400) on this blog. Thanks for visiting my blog and Best wishes, Fred Jinkins - Happy Old Artist





May 25th, 2016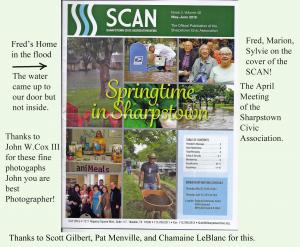 Fred Jinkins - Happy Old Artist is featured on the cover of the Sharpstown Civic Association News - SCAN - a 15 page newspaper delivered to over 7000 homes in the community of Sharpstown, Houston, Texas. Fred has been a resident of this community for over 22 years and he recently finished teaching a free Watercolor Class to Seniors 55 and over at the Fonteno Senior Learning Center. He had 25 students and in eight weeks they produced over 150 watercolor paintings. After the classes were finished there was a show of their work and over 100 visitors came and enjoyed seeing their paintings.Fred is a member of Fine Art America and is also on Facebook. Enjoy visiting Fred's website and seeing his Happy Paintings.
May 10th, 2016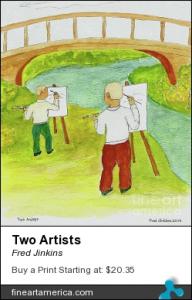 In the early 1960's I met Joseph Govnik at an art gallery where I was showing some of my paintings. Joseph was helping the gallery owner with some chores and she introduced me to him. Joseph was from Hungary and he had studied at the German Academy. He came as a refugee to the United States to escape the invasion of his country. We became friends and often we went out to paint scenes of the outdoors in and around Houston. This painting is a memory of one of those trips. We often painted bridges. Houston is a city with many bridges. When I painted a portrait of a friends wife for her birthday I asked him what he thought about it. He said, "Not to worry about if it is good or not! Just Paint!" I liked what he said. When we were painting this bridge scene he called out to me and said, "Mine is Better!" I called back to him, "Mine is Better!" We liked to tease each other this way. Joseph died in the 1980's. I miss him.
September 9th, 2015
Happy Fish are fun to paint. I enjoy them and when I create a new one I always am eager and excited to show them to my friends.
I like to poke fun at people with my Happy Fish. My fish are like all types of people. I even poke fun at myself. Do I sell my Happy Fish?
Yes I sell them. I don't have a lot of sales but I would paint even if there weren't any sales at all. My painting is good therapy for me.
At 86 I am learning new things about painting every day. It is an exciting adventure for me. Lets all keep on painting!
August 2nd, 2015
This cat is named SOCKS because he has white paws. He also has a coat the resembles a tuxedo. Socks is strong and supple. His coat is smooth and feels like silk when you pet him. He is a rescued cat and he adopted us. He enjoys our house and he sleeps all day. He likes to go out at night and prowl the neighborhood. In the morning he is on the window asking to be let in again. He loves my wife and follows her everywhere. He sits in her lap while she reads her book. He helps her read the morning paper at breakfast. Socks is three years old and is a lovable, friendly cat.
August 2nd, 2015
This grasshopper is a digital painting. The grasshopper is one of earth's oldest occupants. It is a fascinating subject for art. There are many different varieties of grasshopper. Much like the human race it has evolved into many variations. The grasshopper is not a friend to the farmer or to the gardener.
It is a food source in some areas of the world. They can be cooked and eaten. I prefer fried chicken myself. My painting is not an exact replica but more of a cartoon. I am probably the only artist in the world to paint a picture of the grasshopper.